Eine Woche vor Marilles erstem Geburtstag geht es los. Freunde, die die Wintermonate in Florida verbringen, stellen uns ihre Wohnung in Washington zur Verfügung. Die Großeltern sind in einem Apartment keine 15 Minuten entfernt, im selben Gebäude wie Onkel Christoph. Ideale Bedingungen.
Um 2 Uhr morgens ist Marille wach, hellwach. Sie will Frühstück, läuft um die Kücheninsel herum, setzt sich ihre neue Handpuppe auf den Kopf. Wir können das Lachen nicht widerstehen bei dem Anblick. Erschöpft schlafen wir ein paar Minuten, während Marille in einem geliehenen Reisebettchen spielt.
Todmüde schieben wir Marille im Kinderwagen ins großelterliche Apartment und fahren mit der U-Bahn weiter ins Büro und arbeiten dort, bis wir sie um 18 Uhr schon wieder abholen müssen. Den Großeltern ist ein bisschen Feierabend zu gönnen, aber der Tag mit den Kollegen ist doch zu kurz. So geht das eine geschlagene Woche. Auch das Einschlafen ist mühsam, es dauert bis zu einer Stunde im Schaukelstuhl, bis sie endlich schläft.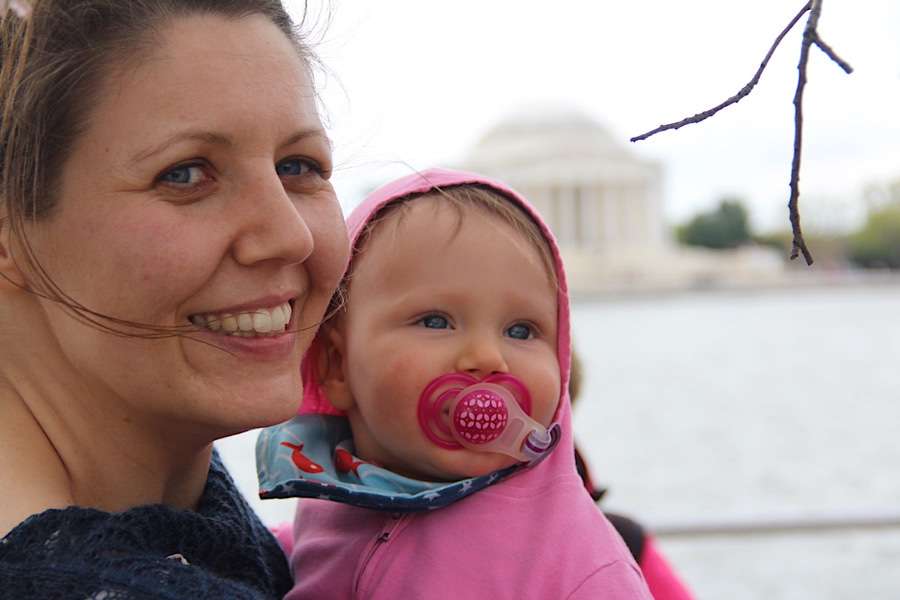 An ihrem ersten Geburtstag kocht ihr Papa Penne Putanesca, ihr Onkel Christoph bringt ein Cupcake mit einer Kerze, und ich sitze eine geschlagene Stunde mit Marille im Schaukelstuhl, bis sie einschläft, während vor der Schlafzimmertür fröhlich gefeiert wird.
Wir beschließen, nicht mehr gemeinsam beruflich zu verreisen und die Kinder ab jetzt zu Hause zu lassen.
Kinder? An Marilles erstem Geburtstag eröffnen wir den Großeltern, dass sie in sieben Monaten ein weiteres Enkelkind bekommen.
Get your FREE 5-Day writing prompts to begin to explore your inner voice
You can already start now and experience the benefits of writing just 15 minutes a day! Try out this free writing prompt mini-series where you will receive beautifully crafted daily writing exercises for 5 days. At the end of the week and with just 15 minutes a day, you will have written 5 short texts for your diary and explored the power of writing. And you will have enjoyed getting to know yourself a bit better and figured out what makes your stomach flutter!